WALKING ALONG WITH ...........................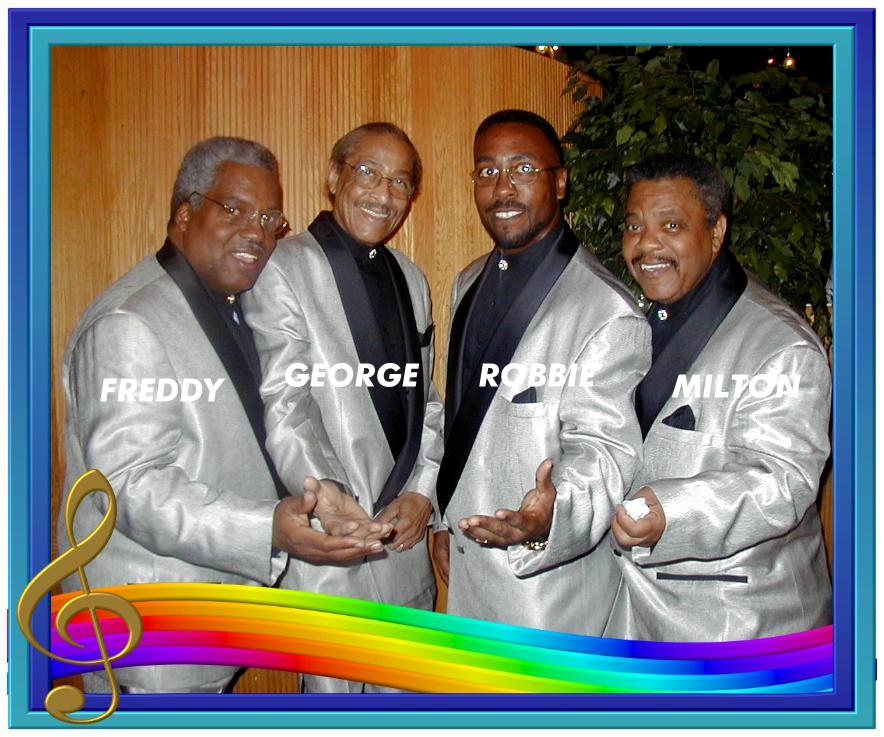 The Solitaires

THE SOLITAIRES are one of the legendary R&B Vocal Groups that originated in NYC in the 1950's . They are still going strong in the 21st century. The group today consists of Freddy Barksdale, Milton Love, George Magnezid and Robbie Mansfield.
Freddy and Milton are the original bass and lead singers , respectively, on the Solitaire's biggest hits, "Walking Along" and "The Angels Sang" . They are also on the majority of Solitaires recordings. Milton established himself as one of the finest tenor leads from his initial recordings with the Concords and throughout his career with the Solitaires. His voice is exactly the same today and he continues to thrill audiences with his vocal excellence.
Freddy is one of the best bass singers that ever stepped onstage and continues to provide that outstanding "booming" bass that anchors the group. George provides some of the excellent background sounds that make the Solitaires one of the most polished vocal groups on the music scene today. George was an original member with the Wrens who scored a huge hit in 1954 with "Come Back My Love". Robbie is the son of Bobby Mansfield, original lead of the Wrens and author of "Come Back My Love". Robbie has a great voice and has been a tremendous addition to the current contingent of Solitaires.
You are now invited to meet ......................................................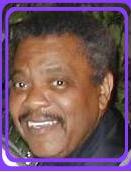 Milton Love was born in Chatham County, North Carolina on July 8, 1937. He began singing as a child, "When I was younger, my aunt heard me singing around the house all the time," Love recalls. "I always liked to sing. She heard me, and she put me into a voice school over on Amsterdam Avenue and 161 st Street. I'll never forget that place because she dragged me there every weekend. That's where I got my voice training from. There, and then singing in the church choir."
Milton's family moved to New York City where Love, Joe Willis, Bob Thompson, and Jim Hunter formed the Concords as classmates at Seward Park High School in 1952. Two years later, their manager, Morty Shad, arranged a record deal with a local company. "The four of us went through high school together and ended up on the Harlem label. We only made one record." Love wrote and sang lead on both sides, the ballad "Candlelight" and the Latin-flavored "Monticello", issued in 1954. In 1955, the group backed up Harlem artist Pearl Reaves of Roxbury, Mass., on her single "You Can't Stay Here"/"I'm Not Ashamed".
Not long after that, Love's friend Monte Owens brought him to a Solitaires' rehearsal in the Harlem River Housing Projects to try out as the new lead. "I knew Monte before I got in the group," Love recalls. "We lived in the same projects, and he brought me to a rehearsal." When the group heard Love sing, they summarily dismissed all other aspirants. Although he had proven himself to the group, Love recalls the difficult task of having to win over their contingent of fans. "I had a period of adjustment," Love explains. "At that time, I was weeding myself into the group. They had a fan club, and the fan club, they were going to be my period of adjustment 'cause they were going to let me know whether I was accepted into the group or not. Really, 'cause they had liked Herman, and Herman was always there, and all of a sudden here comes this strange guy. I think my first gig was at Rockland Palace, and here comes the fan club. You know, they all lived on 120th Street in Harlem. This was the baptismal of fire. If those girls didn't accept me, then I wasn't in that group. But the fan club accepted me, and that was it. Once you got your approval from them, that was it."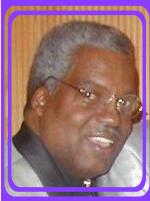 Freddy Barksdale, born in Brooklyn in April 1935, was already a veteran of several singing groups. As part of the street-corner Velvetones, he had sung with Clyde McPhatter's brother, Dave, Bobby Spencer and James "J.R." Bailey. The group won an Apollo amateur night show in 1953 singing "The Glory of Love".
Eventually, Clyde told Dave that his group, the Dominoes, was looking for full-time bass singer as Bill Brown had left to form the Checkers in 1952. Dave brought Barksdale to the Masonic Lodge on 129th Street to audition. Group leader Billy Ward instructed Barksdale to sing "Sixty Minute Man' for the group. "I just sang the bass lead and Billy Ward was in total shock 'cause I'm so young to have the voice that I had," remembers Barksdale. "I had to be 18, I used to sing behind records. By me being a bass, when I would hear bass singe lead on songs, I would just sing along with them. Anything where the bass would do the lead I would try to imitate them. I had won the job 'cause Billy Ward told me to come back the following week for rehearsal, and I never did go back. They were all older. I felt out of place by my age and had never really been out with a professional group and see they were really professionals. I actually was scared. They had girls at the hearsal, and I had never, you know, I felt out of place even though I was relaxed eniough to sing the song. The worst thing I ever did in my life, I didn't go back." He now laughs at the memory. "Of all times not to go back. But as much as I admired them, I wasn't ready for professional singing at that time. We used to go backstage at the Apollo just to see them come out. The girls were screaming and asking for autographs pulling on them. I said, man, one day I'm going to do that same thing. Then when I get the chance I got scared!"
Soon after, the Velvetones learned that one of their favorite groups, the Crickets had broken up, and that lead singer Grover "Dean" Barlow was looking for a new group. Bo Spencer knew Dean Barlow from the Bronx 'cause he used to live (there). He told hin he had a couple of fellas he knew could sing." Barksdale, Spencer and Bailey joined original members Barlow and Bill Lindsay as the new Crickets in late 1953.
Early the next year, they recorded "Are You Looking For A Sweetheart" / 'Never Give Up Hope" for Joe Davis' Jay Dee label. "After a while, I moved to the Bronx because of the Crickets," explains Barksdale. "We had a house on 163rd Street, and three of us stayed there except for Bill. Dean Barlow was our landlord upstairs." The group traveled on the East Coast for over a year until Davis launched Barlow on a second career in February 1955. "We were in Washington, and when we got in the dressing room Dean said that he was going to be singing some songs tonight by himself He sang two selections by himself after we had did our show, and it was within a month or so told us that he was going on his own. This is how the Crickets broke up." After a while Barlow and original Crickets Bill Lindsay and Joe Dias reunited and, along with Waldo "Champ Rollow" Champen, they recorded as the Bachelors for Earl Records, eventual evolving into the Montereys, who recorded "Dearest One" for Onyx. In 1957, Bailey, Spencer, Lindsay and Champen recorded "My Girlfriend" for Esther Navarro as the Cadillacs.
After the Crickets broke up, Barksdale and Bailey formed the New Yorkers 5 with lead Rocky Smith, baritone Shelly Dupont and second tenor Johnny Darren. Their lone single, "Cha Cha Baby'7"Gloria My Darling", was issued on Danice Records based; Flap's Record Shop on 125th Street. Lexy "Flap" Hanford's store was also the home of the After Hours label. "We were actually working in Flap's Record Shop selling records, admits Barksdale. "We did a couple of shows as the New Yorkers 5. It never really was big, you know. I believe the only station that ever played it was WWRL, Dr. Jive, Tomm, Smalls."
Early in 1956, Bailey was recruited to replace Laverne Drake in the Cadillacs. Bobby Spencer, who also sang with the New Yorkers 5, left to work with the Harptones on "What is Your Decision?" and eventually became a Cadillac as well. By the summer of 1956, the New Yorkers 5 had broken up.
Not long before the New Yorkers 5 had broken up, Barksdale and Willis ran into one another when their respective groups shared the bill at a New York area show. "Within a month after we did that show, I was at the Apollo, and I ran into Buzzy Willis down in the men's room," Barksdale recalls. "He asked me what I was doing, and I told him 'I ain't doing nothing.' He said, 'Well, hey man, look, we're looking for a bass 'cause Pat is going in the Air Force.' I said, 'Whaff He said, 'You want to try outT I said, 'Yeah' , cause at that time I was imitating any kind of bass I could hear. I was familiar with the Solitaires songs 'cause they were a popular group at that time. So of course when I started rehearsing with them, I just blended right on in there."
Barksdale auditioned for the group one late summer night in the Polo Grounds housing project on 158th Street and 8th Avenue. "It was Buzzy, Bobby Baylor, Monte Owens, Milton Love and Bobby Williams played piano," he recalls. "I sang 'Please Remember My Heart.' That same night they told me this was it."
That night turned into a long and illustrious career with the Solitaires for Freddy that continues to this day.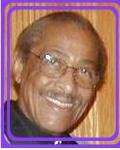 George Magnezid is another New York City native who has had a long and distinguished singing career. George hooked up with Frenchie Concepcion and James "Archie" Archer in 1952. They sang, as a trio, in the community center of PS. 99 for a couple of months before deciding to expand to a quartet by adding tenor Bobby Mansfield. " George recommended me and they brought me in to do the uptempo leads,"says Bobby (Frenchie usually led the ballads). At the time, Bobby was about 15 and attending Morris High School. Archie was around the same age and Frenchie and George were already out of school.
They admired the usual groups: the Clovers, the Ravens, the Orioles, and the Mills Brothers. "I liked the pop sound," says Bobby, whose personal idols were Nat "King" Cole ("where I tried to acquire my diction") and Louis Jordan ("for the jump tunes"). They practiced such tunes as "Red Sails In the Sunset" and "White Cliffs Of Dover," before turning more and more to songs that they wrote themselves.
One day, in 1954, they heard about a contest that was being held by an arranger/pianist named Freddy Johnson at the old CBS building. The Wrens entered and won, and Johnson became their manager. "He knew a lot of people and he fine-tuned our arrangements." Probably through the urging of Johnson, Rama Records owner George Goldner stopped by one of their rehearsals. Bobby remembers that "We had a tentative agreement to go to Columbia [which was in the CBS building, so A&R men sometimes stopped by their rehearsals also. But George told us he'd record us immediately and we went with him."
True to his word, Goldner arranged a session for the Wrens that took place on November 21, 1954. They recorded four songs that day: "Love's Something That's Made For Two" (led by Bobby), "Beggin' For Love" (fronted by Frenchie), "Come Back My Love" (Bobby), and "Eleven Roses" (Bobby). The piano player was none other than Freddy Johnson, who provided the other backup musicians. (An ad for "Come Back My Love" has the notation "Orchestrated and arranged by Freddy Johnson.") However, he and the Wrens parted company soon after the session, and from then on Goldner used the Jimmy Wright Orchestra to back them.
George continued singing with the Wrens until that group disbanded. The Wrens did reunite in the late 80's for awhile and George was back onstage with his friend Bobby Mansfield. The new Wrens were shortlived but George would continue singing as part of another legendary NYC vocal group. He joined the Solitaires in the early 90's and has been there ever since.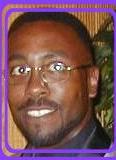 Robbie Mansfield is the youngster of the group but sings like he's been around R&B longer than his years suggest. Part of his musical "maturity" is in part to fact that his Dad is Bobby Mansfield who was the lead singer of legendary Wrens from New York City.
Robbie began his singing career at All City H.S. in NYC. He sang in the school choir and remembers the first time his dad heard him sing was at a scool play where he sang a solo "We Are the World". He remembers learning about harmony while a member of the school glee club and would come to love all types of vocal harmonies. Robbie was influenced in his early years by 70's groups such as the Stylistics and Delfonics, as well as Michael Jackson.
It was probably inevetitable that Robbie would be thrust into the world of R&B vocal group harmony with his dad being a memer of one of the legendary NYC groups of the 1950's. In the mid 1980's, Bobby Mansfield was coaxed out of retirement by Marcia Vance (editor of Yesterday's Memories magazine) and put the Wrens back together. At first, Robbie would help at prcatice and fill in when other members couldn't make it. When Frenchie Concepcion moved away from the NYC area, Robbie took his place and became a member of the Wrens and sang with his dad's group for about 4 years.
The Solitaires were also getting reunited at this time and Robbie soon found himself singing in both groups for awhile. Freddy Baksdale was also doing double duty as bass for the Wrens and the Solitaires.
Eventually the Wrens disbanded and Robbie became a full time member of the Solitaires. He fell in easily singing with the Solitaires which also afforded him an opportunity to do more lead singing. Robbie's signature song with the Solitaires is "I Don't Stand a Ghost of a Chance" and his performance on that song is absolutely amazing.
Robbie was asked in this interview if he had any problems joinging a group of older gentlemen. He stated that age never mattered and he always felt he fit into the group regardless of age. He belives that "Good harmony is what it's all about, regardless of what era a somg is from".
Robbie Mansfield has certainly bridged the "generation gap" and makes the Solitaires one of the premier vocal groups performing today.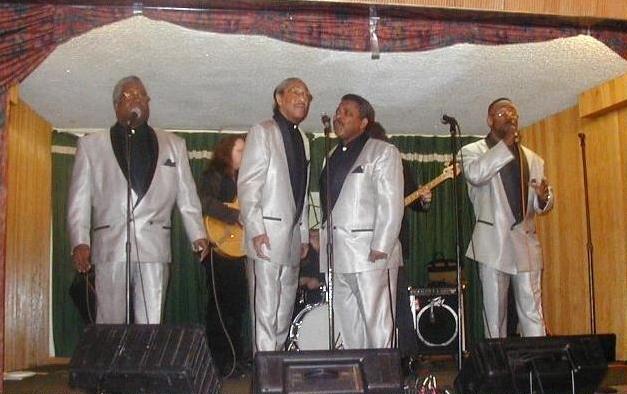 The Solitaires at recent United In Group Harmony concert.

Milton Love and Ronnie Italiano (UGHA President) holding copies of "Nothing Like a Little Love".

| | | |
| --- | --- | --- |
| Click below to learn more about the history of the Solitaires. | | Click below to see Solitaires discography. |
| | | |

If you would like to contact the Solitaires about bookings or just say hello
send an e-mail

to fbarks0435@AOL.com
The majority of biographical information provided on this website was taken from the book, "Group Harmony: Behind The Scenes" written by Todd Baptista. Some of the photos included on this website are also from the collection of Mr. Baptista. He has graciously given his permission for the usage of his material on this website.
Mr. Baptista's excellent book provides a very detailed history on the Harptones, Spaniels, Dubs, Silhouettes, El Dorados, Teenchords, G-Clefs, Willows, Bop Chords and of course, the Solitaires. The book can be ordered from: TRB Enterprises P.O. Box 50962, New Bedford, MA 02745-0033